Our Firm
Cornerstone Financial, LLC is an independent financial advisory firm located in Mandeville, Louisiana. Chris Clayton founded the business in 1995 with the intention of helping families, businesses, and estates maximize their wealth while taking on less risk and improving gains.
Our Values:
God, Family, Trust, Communication, Mutual Accountability, Loyalty, Integrity, Honesty, Education, Work Ethic, and Stewardship.
Watch a video message from Chris about how we create peace of mind for our clients.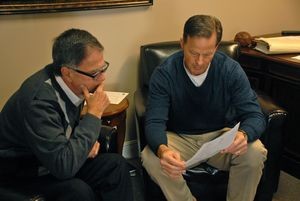 Who do we work best with?
- Someone who is open-minded, coachable, and respondsible
- Someone who is relational and process oriented
- Professionals and business owners who are not satisfied with the status quo
- Someone looking to get out and stay out of debt
- Someone with a strong desire to grow financially
What if you've already done financial planning? Click Here to watch this video.
If you are ready to do something that is higher gain, more comprehensive, more organized, and more structured then you should take a look at Financial Engineering.
Thank you for taking the time to visit our website. Please call or email us if you have any questions about our firm or the range of financial products and services we provide.